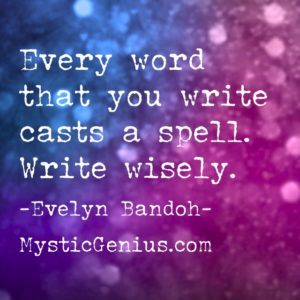 You can write for your highest good or you can write for your demise. I find myself contributing to online discussions less and less because something that starts out sane, quickly descends into nastiness and insanity. There used to be a time where discourse was the norm, but now everyone is yelling their "unchangeable" opinion and jockeying for the best soundbite.
And it's not just online. It's what we write in our emails, text messages and journals. It's what we choose to give voice to over and over again. That is why wise convention says to write down your visions, goals and desires, make it plain and make it powerful. Yes- create space to vent and release your frustrations AND also make sure that you write life into your situation. These days, when I'm venting in the written form- I now end it with some points of gratitude or a statement like "I know things won't be like this forever they get better…." Whether you speak them or write them, know that your words are powerful.
*******
These are just a few things to consider as you walk along your healing journey.  If you need more insight or desire help and support along your journey, sign up for the Mystic Genius Way Newsletter and be notified of upcoming openings to schedule your own session.
Liked what you read and want more? Sign up for the Mystic Genius Way Newsletter and follow Mystic Genius on Instagram and Facebook.
Know someone who would enjoy this article?  Please share it with a friend!